A good night on the tables at Party Poker
There is only one thing better than winning money at the poker table, that is winning it with no risk. Even a mere $1.60 for two or three hours effort.
The Party Poker Pokerfest is nearly over, and it had been rather a disappointment, until last night. Even then, the 10 point buy-in was hardly a triumph, but fortunately, Our Hero was also playing a small cash buy-in, the $6 stud, and with a bit of luck in that, finished 3rd of 9 places paid, nearly as good as earlier this week when he finished runner up of 6 paid. Last night there were 68 runners; the Hold íEm freeroll saw a field of 3,128 competing for the $1,000 prize pool with 400 places paid. Okay, forty dollars clear profit is nothing to write home about, but itís more than they pay me here!
If you want to play poker for free, check out the William Hill Sunday Facebook Freeroll. And if you donít mind paying for your entertainment (rather than your education) check out some of the small buy-in tourneys in the SCOOP which begins tomorrow.

May 4, 2012: The 10 point buy-in No Limit Hold íEm freeroll. Well played, but donít give up the day job.

May 4, 2012: $6 Seven Card Stud - Our Hero wins a hand with quads.

May 4, 2012: Our Hero makes a full house in the $6 Stud.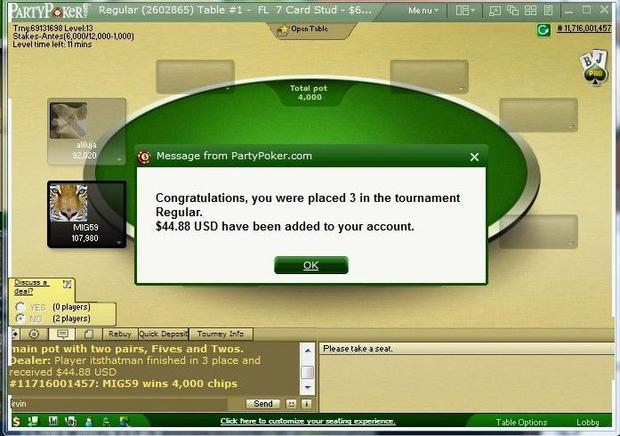 May 4, 2012: $6 Stud - Our Hero cashes for the second time this week. This tourney had 68 runners and paid 9 places.

May 4, 2012: AQ, suited or otherwise, is a trap hand. Here though, the 4-1 underdog comes good, all-in pre-flop.

May 4, 2012: The 10 point buy-in No Limit Hold íEm freeroll. All-in pre-flop with kings, Our Hero is on the way out, then a king hits the turn and he wins with the overfull.

K-10 suited crcks big slick with the nut flush.
[The above article was published originally as a review May 5, 2012 with the 7 screengrabs above. The hands are not in chronological order; I seem to recall they were in said order for some Aromaic reason, but I cannot now remember why. This article is not to be confused with A Good Night On The Tables.]
---
Back To Digital Journal Index